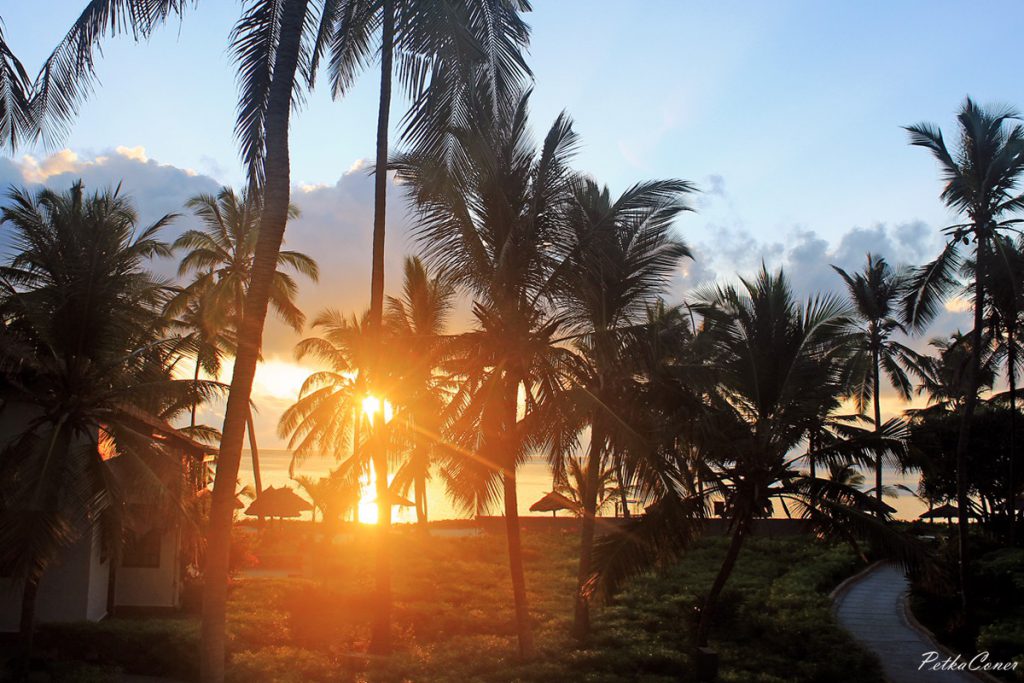 "We think too much and feel too little".
-Charlie Chaplin-
---
From the moment I arrived at Breezes Beach Club & Spa, the first stop on my exotic-luxurious Zanzibar Collection tour, all the senses were stimulated by flowing fabrics, traditional Zanzibar wooden carvings and above all warm hospitality. First impression, elegant and unique environment at a high level, no doubts! With a welcome drink I sat with my hosts listening carefully what kind of program and schedule do I have during my visit . Exited, I barely waited to get to know and explore one of the World's best and luxurious hotels in the world, The Zanzibar Collection.
On my way to my suite through the large garden of palms, followed by the exotic fragrances of flowers frangipani, hibiscus, I immediately noticed something of a personal importance to me: Is airy, spacious. This space breathes! Nowhere to see that classic hotel "box effect". The big two-storey houses, I would even say European look, spread amongst the grassy, palm-lined gardens, a short walk from the beach  far enough from each other to have privacy. It was like i was walking to my private house or apartment on the beach. Yes, and trust me, you would love to have one like that !
My home for the next few days was upper floor suite with large private terrace, private sunbathing area and covered outdoor living area and deck chairs. Not to mention large bedroom and bathroom. So much comfort in one place! European style with a touch of Africa through colors, details and decorations, exceptionally high quality fabrics. Where should I start enjoying when there is absolutely everything that a normal person needs? From the fully air-conditioned room to the beautiful view. Ground-floor is reserved for Deluxe Rooms with a smaller and less private terrace. The Standard Rooms are in a bungalow row at the back of the resort,  though actually being further away from the seafront may feel more secluded and tranquil.
All the rooms are identical in size, décor and facilities. They have a super-wide, netted double bed, they are amply large enough for all this. All the buildings face towards the beach, but, being inland, you can't really see the sea. That does mean the beachfront remains relatively quiet, and you don't get the impression of being in a resort at all.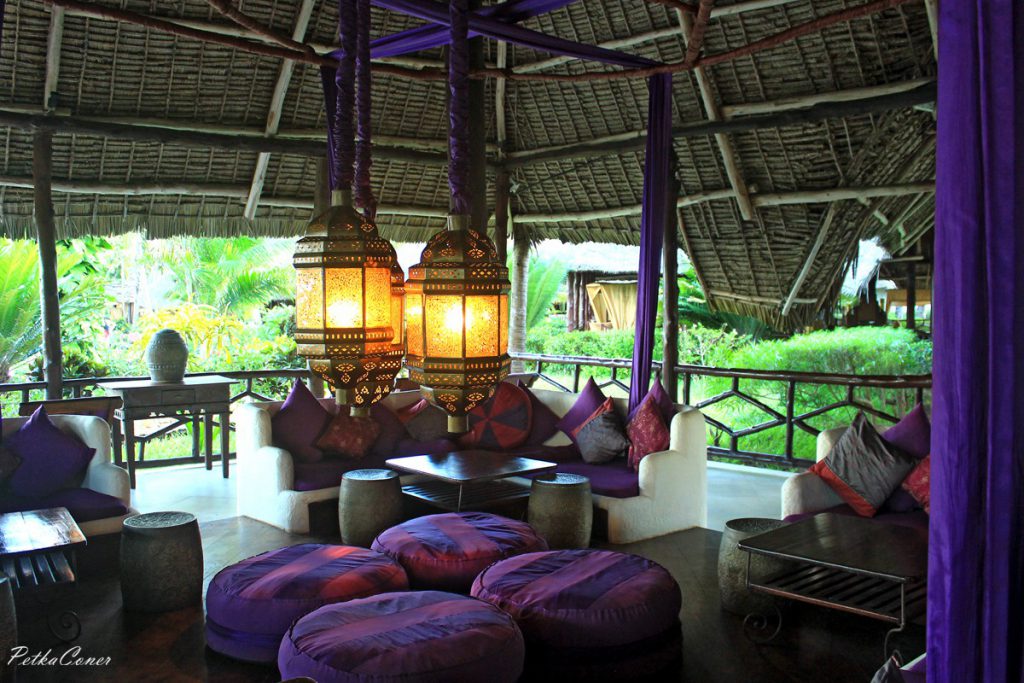 Playful elegance, attention paid to every detail even the tiniest one greeted me in no less than 4 different restaurants and 3 bars. A tough decision where to relax.  I went to see the largest restaurant in an open-sided space, where breakfast and some dinners are served. There is a huge buffet spread of meats, fish, salads, breads, fruit, cheese, desserts. Some Swahili dishes and a huge range of more European fare, so you'll certainly find something for everyone. But hey – there's no typical "famous" queue while you're waiting with your plate in your hand, braving impatiently to get your fried eggs, pancakes or whatever you want on the spot. Even the feeling in restaurants is the same: privacy as in your home. There is no such sense of mass tourism. But you have to try something really special. A stilted restaurant near the beach called "The Sultan's Table", which serves a fusion menu of Indian, Swahili and Asian dishes in an á la carte format. Elegant colors in impeccably designed exterior makes you wonder: where is the limit of this beauty ? Maybe in a tiny raised cabin for two, overlooking the beach, where you can enjoy in total privacy. Not surprisingly "The Tides" restaurant it's most popular with honeymooners and everyone celebrating love, live and hedonism.
Every corner here is wisely designed. Even the beach is designed with care for the privacy of every guest. Your corner gives you complete peace to relax and enjoy the beautiful panorama of endless white sand and turquoise ocean.
Among the numerous sports center activities; from snorkeling, scuba diving, surfing to relaxing treatments at the famous and excellent Frangipani Spa I especially enjoyed lunches at "The Breakers Grill" with my bare feet in the warm sand. Fish, prawns, lobsters … Okay, I admit: Life is extra beautiful in Breezes.
Breezes Beach club & Spa is an ideal choice for anyone in search for privacy, romantic gateway, peace and unforgettable family vacations. Located on the south-east part of Zanzibar, which is still intact and very quiet part of the island, complete stress-free vacation is guaranteed. The beach in front of the hotel was selected from the prestigious Conde Nast Traveler magazine as one of the Top 30 in the world.
And when the day ends with a delicious dinner and discreet exotic sounds of traditional Tarab music or movie- night beside the pool while you are sipping your coctail watching  Charlie Chaplin, the only thing you can think of are is his words: "We think too much and feel too little". Breezes Beach club & Spa is not a hotel, nor a resort. That's a feeling.