Why is Baraza Resort & Spa one of the best in the world?
---
"Wait till you see Baraza" I listened on my way to Nr.2 stop of my Zanzibar Collection visit. Only a few minutes away from the Breezes Beach club famous Baraza is located on the same world-renowned Zanzibar beach. I have not yet arrived but I have fallen into the waning of the amount of praise for my next stop. Well okay. Let's see what this is all about. Is it Worthy of all worship, reward, titles. Among others, Baraza was chosen as one of the most exclusive Zanzibar resorts in the world. All Inclusive 5 * is included in the 60 world-famous hotels by the prestigious and relevant World Magazine Conde Nast Traveler.
And so we finally meet. Baraza Resort & Spa. Very elegant, in the manner of the kindest host said: "Welcome to Baraza, Miss Petka". While I was only able to drop "Wooow!" And I was just at the reception.
I followed my host carefully on the stone, shining path to my villa while my head is spinning  360 and back. At every step I stopped admiring at the beauty of architecture and detail. And at the same time I was trying to remember the way. Because impeccable gardens of coconut palms, exotic flowers, smells and colors can hypnotize.
The famous zanzibari style door of villa Nr.22 opened and my decent hosts kindly said:"Welcome to Baraza, Miss Petka. I am your villa host, at your disposal  24 hours. If anything is needed or missing please just call me. At your service". And what to say, except to humblely thank my private batler. I turned around. Like I was teleported back to the days of Sultans and Princesses. Around me a fusion of Arabic, Swahili and Indian design, with Swahili arches, intricate hand carved cement décor, beautiful antiques, handmade furniture and shiny brass lanterns. Elegant, luxurious and spacious. So much, like I was playing hide and seek trying to find myself among 193m2 big villa, my home for the next few days.
Knock knock on my door. It was my villa-host. Discreetly, with the style he carried the plaets full of exotic refreshments, prawns, pâtés decorated with colorful flowers. "Madam Petka, lunch will be served in an one hour at the" Ocean Lounge Bar & Restaurant". Okay, thank you very much. I'll be there. Let me first find me and myself, where I am in two huge, luxurious bedrooms, the bathroom of golden shine, the breathtaking living room or among the fine curtains. After I pinched myself and dive into my own private plunge pool and here comes the feeling: I'm a princess.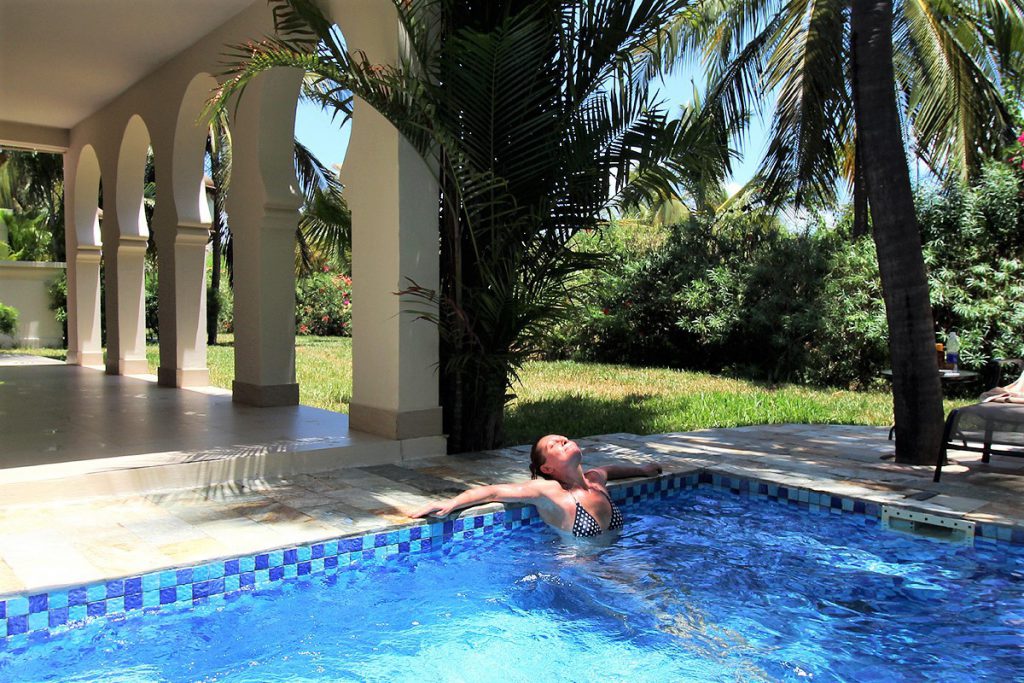 I walked toward the restaurant, confident, I'll be there in a couple of minutes. Hm… shoud I start throwing the petals to know how to get back? Every corner just called me to stop, to admire, to get explored. I quickly realized I was far from my lunch restaurant. I finally found a way out of the labyrinth of elegance, ornaments, arches, details, but then I faced new problem.
If I had two pairs of eyes it would not be enough. Choice of food – endless. Service out of the ordinary. Everything you ask, everything you want is not too much. Inspired by Arabic, Indian, Persian, Asian and Swahili flavors using the local Spices for which the island is famous the food was extra ordinary delicious. As well as continental offerings. Just a reminder, Baraza is all inclusive resort. Believe me, there's no way you can try and taste everything! Baraza has several restaurants and bars. Impressive! Every dish, every bite – a new magic!  I hardly made decision where to sit, where to sum up all the impressions and feelings that Baraza creates. An atmosphere evoking the heritage of Zanzibar from the Sultan times.
It was my time to visit Frangipani Spa. A tranquil sanctuary, the size of an average small hotel with beautiful setting, reflecting a sophisticated Swahili style enhanced with candlelight and spice scented aromas. With top professional therapists from Thailand, Bali after a few hours I was only able to lie near the spa pool. Crystal clear blue with underwater music. Yeah, well, right: a pool with underwater music.
Baraza's captivating elegance is complemented by a variety of facilities; pool, tennis court, yoga and fitness centre and the beachfront Water Club which offers kite surfing, wind surfing, sailing and bikes for exploring the local villages and coastline. When I discovered Kids Corner, I realized why Baraza is popular for family vacations. Oh God, take me back, do not let me get out of here!
Baraza has a personality. Every detail has a story. Hands of zanzibari craftsman skilled in the art of cement carving is stunning beautiful and diverse. All the Zanzibari furniture in Baraza is hand made by local artisans who have perfected the art of wood carving, for which Zanzibar is so famous.  Architecturally, Baraza itself is a journey through the grand, beautiful designs of the style of Sultans Palaces of Zanzibar.The name Baraza itself means meeting place and represents community, social interaction, and relations. In Zanzibari culture,the Baraza or bench has for centuries been a focal point of community life. Baraza evolved as a way to received and entertain visitor. Or simply idling away the heat of a long afternoon with a nap on the smooth, warm stone.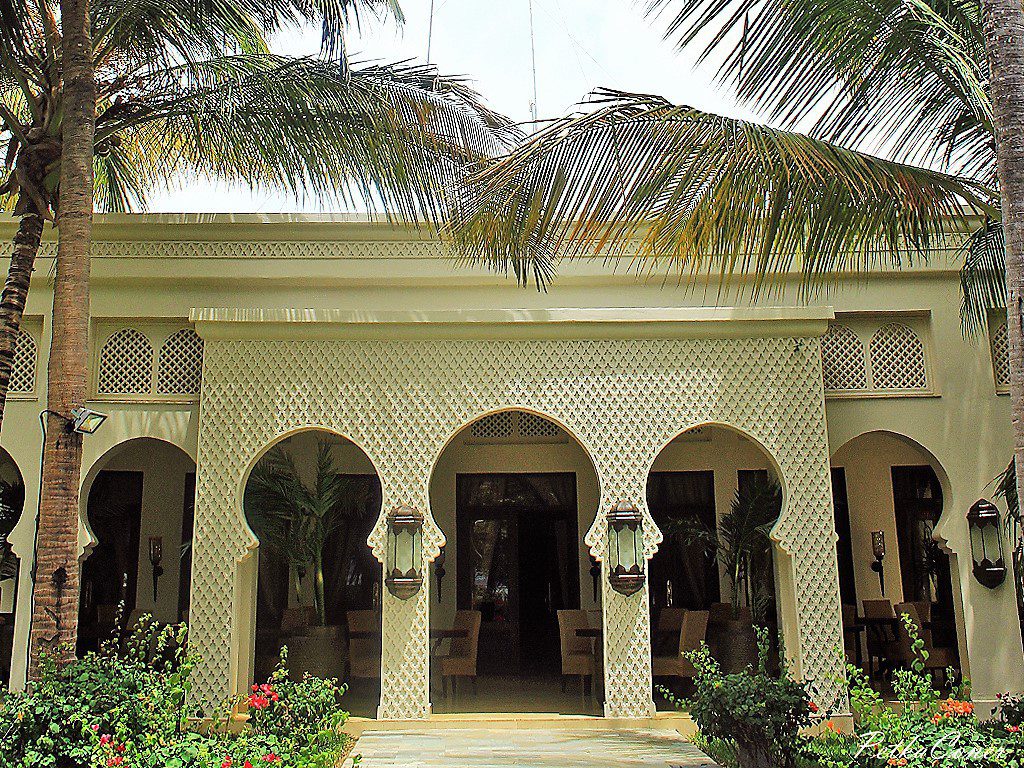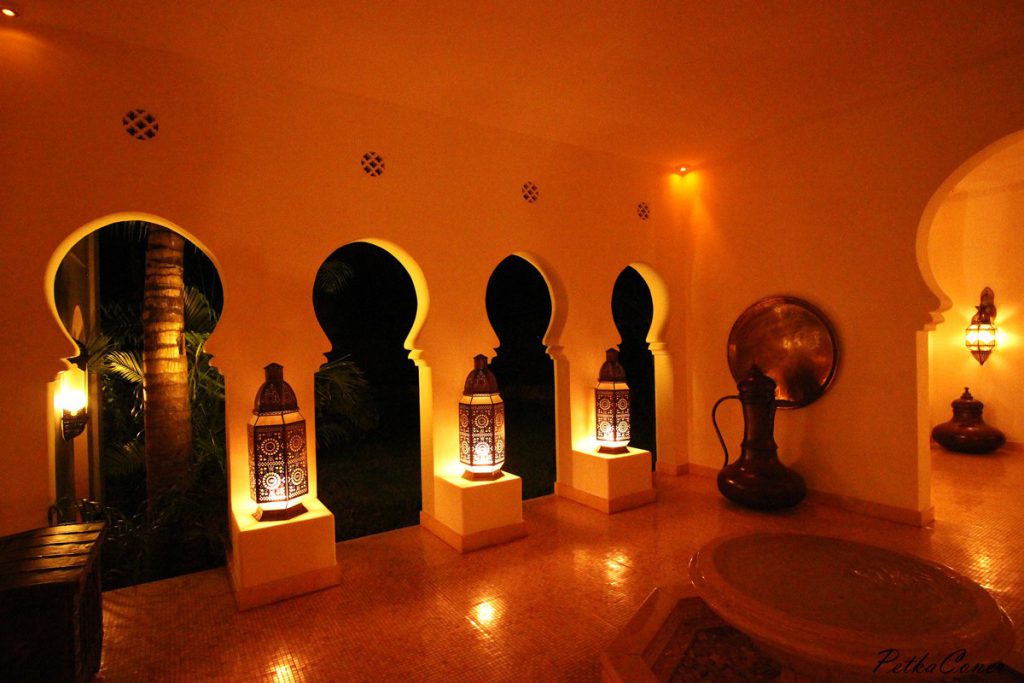 With just 30 villas, you can choose between size of 193m2, 148m2 or presidential villa 254m2. In all its splendor, luxury, decor, nothing is too little nor too much. And feeling of a Sultan or Princess doesn't stop. Such an all-inclusive boutique resort  is a perfection for anyone: from family vacation to solo travelers. Here you are the center of the world. Now I understand why Baraza Resort is among the best in the world. An experience, after which everything else looks average.
And finally you are probably wondering: Can I afford this luxury? If the answer is-no, try…
Because, we all deserve to live and feel like sultans and princesses at least for one day.
Life is too short.