Once you visit, feel, experience, explore, you will not want to leave. 
You'll never forget small and happy world surrounded by the turquoise waters of the Indian Ocean.
---
Meanwhile packing again for a new trip. But getting ready for this direction always makes me happy. As if it's for the first time. It's not. But each time is different. Even the packing. This time I was drowning in my own sweat trying to find things and tuck in the suitcase. It was more darker than the devil himself. Here in Kenya we have something called "Kenya Power". And this something  sales and supply  electric power to over 4.8 million customers in Kenya. And more often leaves the same costumers in the dark. Without explanation, without notice, hours, days, nights. That night was +43c,  humidity to a maximum. Dead fans, no wind. Real haslle. C'mon You can do it! Just a few hours of sleep. I survived somehow that night.
Flight at 10:50. Boarding completed at 10.30. So why don't we take off earlier?  Only in Africa ? From Mombasa only 40 min cruising above crystal turquoise ocean, scattered islands, Pemba Island and there it is – Unguja, the largest island of the Zanzibar Archipelago. Smile you're on Zanzibar!
Whether you are on vacation or business  Zanzibar always promises a historical, cultural, culinary, ecological and happy experience.
Here are few facts:
Zanzibar is an autonomous part of Tanzania in East Africa
Zanzibar has its own president, its own government. All under Tanzanian flag
Zanzibar is in fact the collective name for the group of islands of which Unguja and Pemba are the largest. Unguja, world known as Zanzibar.
Official languages: English, Kiswahili, Arabic
Religion: Islam, Christianity
Thanks to it's tropical climate, any time of year is always the good time to visit this pearl of East Africa. UNESCO world heritage and the homeland of the legendary Freddy Mercury.
Colors, colors everywhere
But there is something you will immediately notice. At least you should. Colors. From the roofs of houses to beautiful Kanga's, colorful garment  worn by women. Zanzibar is bursting with colors of all shades. Such a colorful motivator for gray and cold days should find it's place in any wardrobe. And very quickly in all this colorful mix you'll realize that you need exactly something like this in your house, kitchen who knows where else. Finally you found what you've been looking for so long. And you've found it on a small  island called Zanzibar.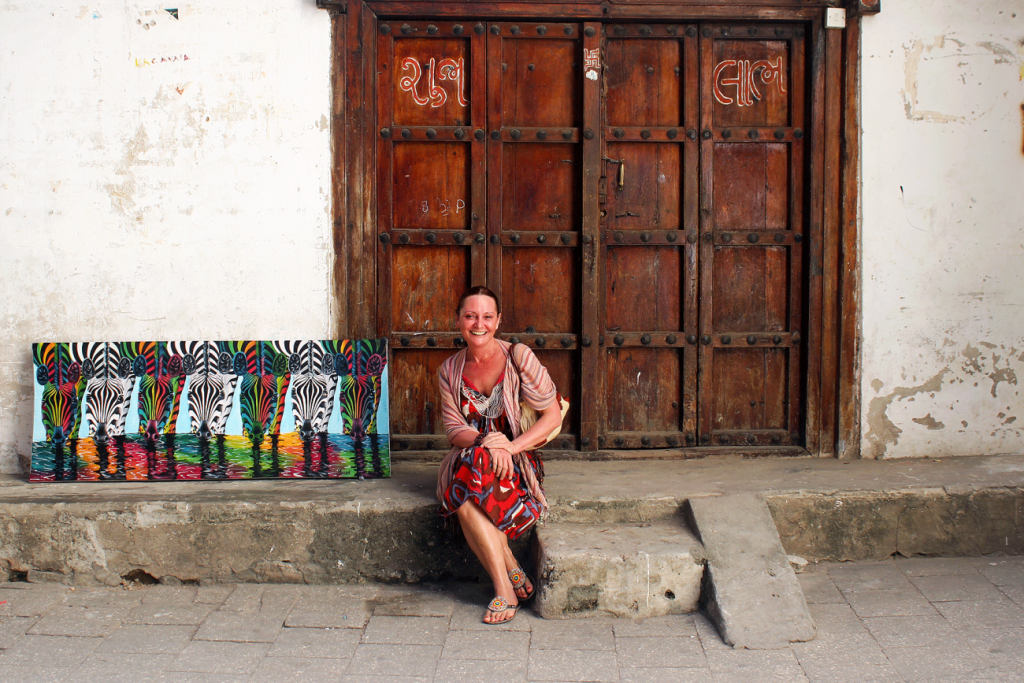 And who would have thought that today when the whole World has become very oddish, there's a community of people who live and work with an amazing calmness in the air. And it's not a film set to delight tourists from around the world. But do not forget ! You are most welcome and accepted  regardless of your religion or color of your skin. Show your respect and sensitivity. Just remember good manners  especially decent clothing. Not pleasant at all to watch the citizens of Zanzibar feeling  discomfort while passing by  half-naked  tourists and visitors. Especialy woman's! Do not for God's sake! I still believe all respect did not disappeared from this world! Respect diversity. Respect religion. Respect others if you want to be respected. And you'll see; all the beautiful, stunning doors of Zanzibar will be wide open for you.
"Petka, how safe it is?"
Most often question. I understand. Let's be honest. We know what are the most common associations for Africa. My answer is always based on personal experienced. What i have had seen, explored. Hey after all there's a journalist in me. In Zanzibar there's no place for crime nor religious intolerance. You'll see. After just very short stay you'll  be ashamed of own thoughts and prejudices about the place with very exotic name. Because after only a few hours of Zanzibar you will realize that you're smiling all the time during pleasant talk with everyone you meet. You'll catch yourself in watching children playing on the narrow winding streets with each other. Not with smartphones or  games on tablets. You will start to sing songs from Zanzibar together with the taxi drivers  although you do not know swahili. You will stop at the street corner and drink delicious Zanzibar's coffee together with the natives in a traditionally way.  And the best is yet to come. One of the "must" experience of Zanzibar. Dancing in the beautiful park, the heart of the city Stone Town whereas local children  jumping into the Indian Ocean and stunning sunset. The famous "Sunset Jumpers". Showing gratitude for just another happy day which ends slowly accompanied by incredible views of the sunset. Silently, you'll wish : " Dear God, stop the time please".
But there is never enough time for everything what Zanzibar has to offer. Small Island, but so special and different. The place where different worlds meet, cultures of the past in one place, food, beaches, colors, indescribable sunsets. Just few of all wonderful things that you'll love about Zanzibar. But there is "certain something" that will most impress you and you'll love it unconditionally. It can not be classified in any of the above categories. Almost every or every single person you meet on the street, on the spice farm, at the market or store will be happy. Smiling. It's not about smile. There is some energy of happiness easily to feel. Even if they talk about hard life they smile. Wherever you go people will greet you with respect and the most common words "Hakuna Matata (No Problems).Welcome to Zanzibar".
Pure exotic!